How Germanium Benefits Your Health
Germanium atom has thirty-two electrons with four of them constantly moving unsteadily along its outermost shell. These four electrons are negative-charge carriers. When approached by a foreign substance, one of these four electrons will be ejected out of its orbit once the temperature is above 32 degrees Celsius. This famous semiconductor phenomenon is known in electronics as 'the positive hole effect'. The remaining three electrons will seize an electron from other atoms in order to maintain balance.
* Strengthens one's immune system * Increases blood circulation * Raises oxygen levels * Speeds up metabolism of body cells
* Removes harmful toxins * Relieves joint and muscle pain * Arthritis ,Diabetes ,Asthma * Relieves fatigue and tiredness
Health Benefits of Energia Qi
Energia Qi is thought to flow through your body through very specific channels-14 of them, to be exact. These channels are called meridians; within them, there are roughly 360 acupuncture points. These points are thought of as gateways to help access your Qi. Run through the upper part of your right wrist, and your heart meridian runs through the lower part of your left wrist. This is why you wear the bracelet on your right wrist facing up, or on your left wrist facing down-with the goal of tapping into these specific meridian points, the atoms and ions, which are bonded with each other with considerable interatomic forces, are not motionless. Due to the consistent vibrating movements, they are permanently deviating from their equilibrium position. Elastic waves of different lengths, frequencies, and amplitudes run through at all times. The typical order of the atomic vibrations frequencies is 1013 Hz, and that of the amplitudes is 10-11 m. You can help restore a balance to your Qi, which in turn may help restore your well-being.
* Promoting deep sleep . * Promoting better digestion * Purifications of blood Restoration of cells * Increasing metabolism * Increased power of resistance *Stabilizing brain function * Balancing the autonomic nervous system
Health Benefits of Titanium
Titanium is commonly used in the area of alternative medication to alert users of possible medical problems. Nowadays, titanium is used for making jewelry like bracelets and necklaces as well as in the production of synthetic body parts. Titanium is believed to have the following health benefits. Titanium displays a very high compatibility with a person's body. Most medical implants that require being placed inside our bodies are manufactured
using titanium. This is because titanium has a very low likelihood of being rejected by the tissues in the body. This metal also does not cause infections or allergies like other metals, making it a suitable choice in the body piercing field. You can even wear a titanium bracelet for a long time without being concerned about getting any infections or skin rashes.
* Increased Oxygen Supply * Electric Neutralization * Pain Relief * Arthritis * Body Compatibility * Immune System Boost * Durability * Relief back pain
*It should be noted that the above benefits experienced may vary from individual to individual.
*A small percentage of people will experience some dizziness or headaches. Please drink plenty of water for 2-3 days and the symptoms should disappear.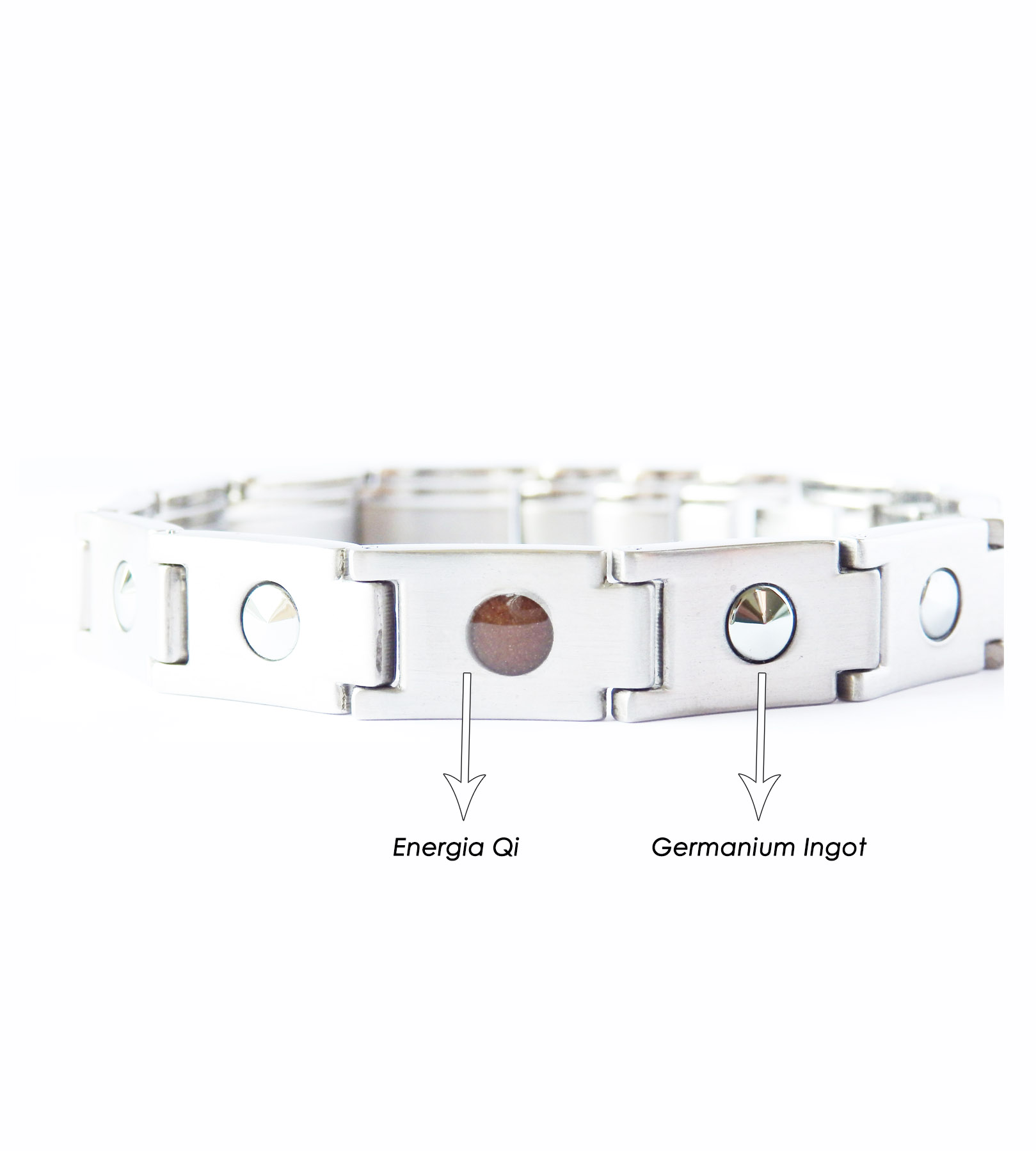 U-Energia Health Bracelets Size Guide
For a link bracelet we recommend that the bracelet length should be approximately 1/2 inch (12mm) longer than the measured wrist size. This allows for wrist movement. Using a flexible measuring tape*, Measure just above (towards elbow) the wrist bone, then add 1/4" to 1 " (1/2" is average) depending on how tight you like your bracelets to fit.
Tip: If you don't have a tape measure handy, use a strip of paper or thin string, and mark it where it over